YAYY!!!!!
February 27, 2006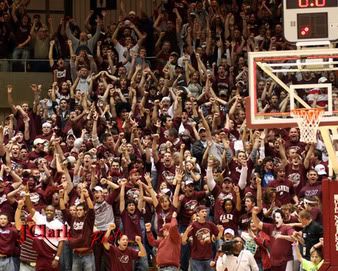 *picture courtesy of salukitalk


finally...the dawgs have pulled the much needed victory over northern iowa last saturday eventhough for the first few minutes of the game i was ready to turn off the tv..since it looked like 'same shit different day' kinda of thing..hehe..they came out flat for the first few minutes. but then the momentum came when jamal tatum hit his first three and got fouled!!...shaw was spectacular too..just like he did against creighton, i guess he just decided to ponder this sonsabiatches when he stepped on the court. Go Shaw!! Go Dawgs!!!....

That win seeded us as the #3 in the conference..but then creighton loss to sms a few hours later moved us up to the #2, sebenernya sama sih recordnya sama creighton dan sms but by virtue of the tiebraker system kita jadi nomer 2 deh since we sweept them during the season!!..

anyway, for the last 4 years, we entered the tournament as the #1 seed but we never had the luck to win it all..so maybe this year will change it all..amiiiiin. can't wait till friday!!

Here's a summary of last saturday game i found on siusalukis.com (written by Tom Weber)


CARBONDALE, Ill. - Tony Young banked home an eight-foot jumper with seven seconds left to lift Southern Illinois to a 46-45 win over #25 Northern Iowa Saturday.

Ben Jacobson had a chance to win the game for the Panthers at the buzzer, but his off-balanced 3-pointer from the left corner was well short.

The Salukis (19-10, 12-6) desperately needed a win. Not only did the victory snap a three-game losing skid for SIU, but it gave the team some momentum heading into next week's State Farm Missouri Valley Conference Tournament. Southern can finish no worse than the #3 seed, and could earn the #2 slot if Missouri State beats Creighton on Saturday night.

Matt Shaw was the offensive hero of the game for the Salukis, leading his team with 16 points.

SIU trailed early in the game, 14-2, but eventually built a 12-point lead of their own, 32-20, early in the second half.

Northern Iowa scrapped its way back into the game and took its first lead of the second half, 45-44, on a pair of free throws by Grant Stout with 13 seconds left. Stout went to the line after Jamaal Foster was whistled for an over-the-back foul off a missed shot by SIU's Bryan Mullins.