Happy Birthday Jibran!!!
January 24, 2006
Jibran turned 2 last thursday (january 19). I took him to Toys r us in the morning for a little shopping spree..akhir2 ini dia lagi suka choo choo train..so i got him a sete of GeoTrax train set from fisher price, tadinya sih pingin beliin thomas the tank tapi kok harganya nggak sopan ya kayanya, lagian knowing jibran pasti cepet bosen deh sama mainannya. So the geotrax would do for now, he also picked a spiderman book yang sampe sekarang masih sering di baca dengan seriusnya sama dia..sama satu set crayola crayon tapi yang unbreakable. Abis itu we had lunch at St. Louis Bread company and then went home so he could take a nap. Sore nya..we took him to the Sesame Street Show!!..Kebetulan banget pas lagi di sini pas ulang taunnya, and he loves elmo so much...jadi ya udah deh perfect lah untuk kado ulang taunnya dia..and it was his first show too!!. Mukanya kaget lucu gitu pas ngeliat ada elmo di panggung..hehehe..asli yang seneng dan nunjuk2 sambil teriak2 elmo gitu..hehe. Seminggu sebelumnya gue udah order a cute elmo t-shirt for him to wear to the show on amazon.com sebenernya, ehh tapi sampe hari h nya (bahkan sampe hari ini) t-shirtnya belum dateng2 tuh, jadi jibran nggak pake t-shirt elmo deehh. Ini ada beberapa foto2nya..(tapi nggak ada foto jibran yang lagi ketawa2 di dalem sih, soalnya gelap bow)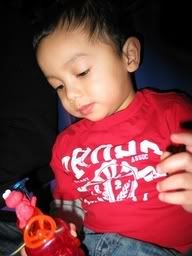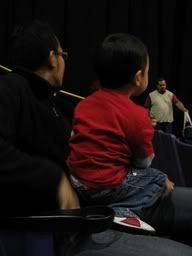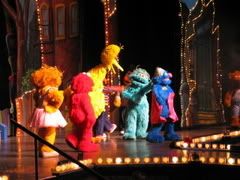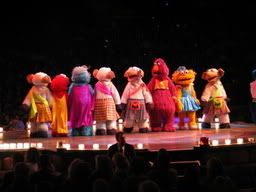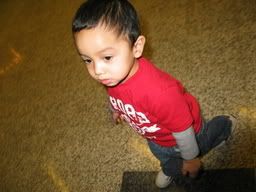 Kita di rumah nggak tiup lilin sih but i sang happy birthday to him over and over again for the whole day..dan dia kaya kesenengan gitu dengernya sambil tepuk2 tangan. Tapi waktu weekend kemaren ke rumah tante anne and om yadi, ternyata mereka punya kue ulang taun buat jibran, dia ikut2an nancepin lilinnya yang emang sengaja di pasang banyak, tapi pas niupnya dia belum bisa tuh..hehe..malah jadi kaya nyembur gitu..haha, daripada kuenya kena sembur jibran mendingan mama nya aja deh yang niup..:D. Jibran juga dapet kado kuda2an dari mereka..yayy...he got quite a few presents, favoritnya tuh sepatu yang dari dinar, etha and tira yang di pake terus sama dia, trus bola dari Reza sama bebek berkulit macan dari arya (maskotnya Mizzou)dan dinosaurs dari ibu dwi. Pas ulang taunnya juga kita bagi2 nasi kuning box gitu untuk anak anak jalanan di jakarta and a huge birthday cake untuk di rumah nenek soalnya lagi rame banget di sana karena ada sepupu gue yang kawinan weekend kemaren. Trus nggak ada perayaan apa2 lagi sih, sempet kepikiran untuk bikin birthday party di sini tapi nggak mungkin yang di undang cuma beberapa orang aja, satu di undang ya di undang semua dan jumlahnya bakalan lebih dari 50 orang..jelas gue nggak sanggup deh aww..hehe...palingan nanti aja pas pengajian weekend ini kita mau bawa kue ulang taun sama goodie bags buat anak2 kecilnya.